Create High-Converting Affiliate Websites
Fast and Easy
Create and Manage all your Websites in One Platform
AffiliateBizProfit is an intelligent and highly-secured website management system that takes care of all your web needs from site creation, to domain hosting, to security.
With it's no non-sense interface, you can easily build dozens of websites each day that suits your business needs. You don't need any technical knowledge to build high-converting websites.
AffiliateBizProfit is a cloud-based software - maximum speed and no installation needed. Find all your files in one place.
How to Build an Affiliate Website in 3 Steps:
Step #1: Choose Your Template
Pick from one of our high-converting templates. Don't spend too much time reimagining design. We're providing a wide range of templates of proven and tested web page layouts.
Step #2: Drag and Drop
Editing the template is easy. Just drag, drop, and edit elements that you need to fit your business. For the more advanced users, customizable CSS is also available.
Step #3: Add Your Content
Adding your copy is as simple as editing a word document. Also, our website editor automatically adjusts images to maintain quality without sacrificing load speed.
AffiliateBizProfit has replaced my complex Wordpress landscape with one easy system. Thanks to its scalability, my technology requirements are automised and I can finally focus on creating and promoting my content.

- Levin Roski
Can an absolute beginner in Online Marketing become successful with AffiliateBizProfit? My answer: yes! AffiliateBizProfit is ideal. You don't have to deal with anything except for the simple to use AffiliateBizProfit interface. And in just a few days you'll have gotten to grips with the system.

Creating a duplicate of an entire website: 1 click. Create websites in multiple languages: 1 click. Publish a Landing Page on your Facebook Fanpage: just 4 clicks!

The first time Sam showed me this tool, I grabbed him and said: "Sam, get your calendar out - we need to hold a webinar for this tool."

This is so brilliant! I'm stunned.

- Ralf Schmitz
Features To Make Your Life Easier:
Scalable Hosting (Never Lose Speed)
No more problematic hosting with other providers. Everything is taken care for you. And with our scalable hosting partners, you can create hundreds of websites without losing valuable load speed.
Search-Engine Optimized (SEO made simple)
Put all the information you need on the page settings and make sure your pages are ready to be discovered in search engines.
Mobile Responsive
Every page is mobile responsive. No hassle required.
Manage All Your Websites in One Place
Manage multiple projects in one place. No more hundreds of log-in details. Organize your projects in folders and give access to collaborators (available in higher packages only).
Bonus: AffiliateBizProfit Training
Facebook Insider Group
Case Studies
Sources of Inspiration
Secret Weapon for new Niche Ideas
How to Write Reviews (NEW)
Bonus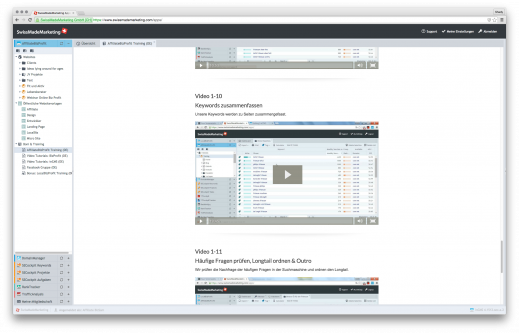 Bonus: The LocalBizProfit Total Marketing Bundle
With these powerful, conversion-focused marketing materials, you can set up your business in no time. All materials are written by a seasoned copywriter who have worked on million-dollar ecommerce. You will benefit a lot from this experience! Here's what you're getting:
Email Swipes - send these emails to potential clients and stand out from the crowd. Get their attention with these emails written by a seasoned copywriter.
Video Sales Letter Slides - record your very own video explaining the benefits of having a marketing-focused and reliable website in today's ecommerce. Your potential clients will understand just how important it is to work with you as soon as possible.
10-Day Funnel - set up as a manual or automated funnel (if you use an email marketing software). These email are designed to overcome different objections of potential clients by trying to talk to different archetypes of people.
We've tested the AffiliateBizProfit model for several months now - and I can say: it works! A clear concept with the matching software solution. As the inCMS Editor is really easy to use for anyone, we've seen a huge benefit in sites we create for our own customers. This advantage has simplified our business processes and has allowed us to win more customers.

Almost everyone can put this business model into action as the potential - especially in the local websites niche - is enormous. With that my statement is: I can fully recommend AffiliateBizProfit for users who want to build a long-term and stable online business.

- Jessica Ebert, jessica-ebert.de